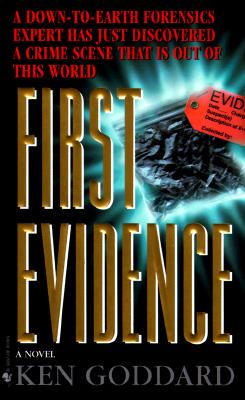 Stock Image
Author Name Goddard, Ken
Title First Evidence
Binding Mass Market Paperback
Book Condition Very Good
Publisher Bantam Books 2000
ISBN Number 0553579134 / 9780553579130
Seller ID 001789
A down-to-earth forensics expert has just discovered a crime scene that is out of this world.
In criminal forensics they train you to uncover evidence, no matter how brutal or bizarre the murder.
But what if one night you make contact with a crime scene so terrifying, no one on earth can explain it?
It begins at a chaotic crime scene in the deep woods of the Pacific Northwest--site of a reported shoot-out. Investigator Colin Cellars cannot find a trace of perpetrator or victim--or even confirm that anyone has been killed. As he doggedly pursues the case, he realizes there is far more at stake here than murder. Someone--something?--will stop at nothing to prevent him from discovering the truth. For the truth is not "out there." It is locked away in Cellars's own evidence file. The evidence points to a killer far outside Cellars's experience--far outside any earthly experience. But who will believe one maverick cop?
From the "New York Times" bestselling author of Balefire comes a chilling tale of murder, forensic detection, and vivid speculation, pitting a unique crime scene investigator against a culprit who may be unlike any this world ever spawned....
Price = 3.99 CDN